Posted by Perry - 10/9/14
October 19, 2014
4:00 pm
to
7:00 pm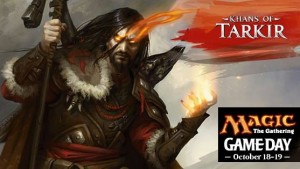 The Khans of Tarkir Game Day is almost here!
$5 entry fee
Standard Constructed
Oct 19, 4:00pm
Everyone gets a full art promo card Heir of the Wilds
Top 8 get a foil full art promo Utter End (its shiny)
Winner gets a pretty playmat (Ooh exclusive)
This is an official sanctioned event, which means planeswalker points.
Rounds will be Swiss pairings with cut to Top 8.
Preregister today in-store to reserve your spot!