Posted by Perry - 11/7/14
It's time for our annual Winnipeg Harvest Game Day! This will be our 13th year! Come on down Saturday, December 6 to play some games, and donate non-perishable food items to Winnipeg Harvest. Every $5 of food you give gets you a ticket for cheating! (which can then be used in the games you play, you cheaters you).
Plus we'll have prizes! Baked goods! Candy!
Hope to see you out to do some gaming for a good cause.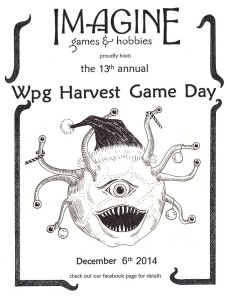 Posted in Misc