Posted by Perry - 02/27/14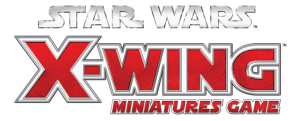 Imagine Games & Hobbies will be holding
a Store Championship tournament, officially sanctioned by Fantasy Flight Games!
Date: Sunday, March 9
Time: 1:00 to 6:00pm
Entry Fee: $10
Build Points: 100
PRIZES include: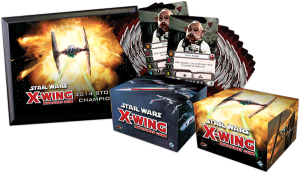 Champion: Store Championship plaque; card box for ship cards, upgrade cards, and tokens; first place certificate worth a first-round bye at one Regional Championship (held in Winnipeg!)
Runner-Up: Card box
Top 4*: Four acrylic range rulers
Participation: Thirty-two Ten Numb ship cards featuring movie still art.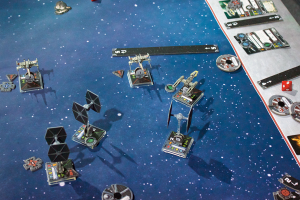 OFFICIAL TOURNAMENT RULES:
Please see the Fantasy Flight Games site for their official tournament rules. In summary: we will be playing a Dogfight event, 100 point squads - players are required to supply their own ships, cards, dice, range ruler and maneuver templates (ship, base and card proxies are not allowed). The designated Tournament Organizer will review all squads prior to the tournament, and players will use that squad for the duration of the entire tournament. Tournament rounds will be 60 minutes. Depending on the number of players in the tournament, this will decide if we will play with a "championship bracket" (i.e. a final round with the top 2 or 4 point holders to determine a champion), otherwise the champion will be determined solely on points scored after a certain number of rounds.
As described the prizes above, the Store Champion will receive a certificate worth a first-round bye at the Regional Championship to be held right here in Winnipeg, at GameKnight Games & Cool Stuff! (date TBA).
Hope to see you out! And may the Force be with you!
REMINDER: THIS WEEKEND IS DAYLIGHT SAVINGS! DON'T ACCIDENTALLY SHOW UP LATE!
Posted in Misc